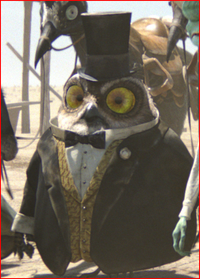 A world traveller and professional gambler, Ambrose adds an air of sophistication to the dusty crew of the Gas Can Saloon. He speaks twelve languages, which is eleven more than most folk think necessary.
Appearence
Edit
Ambrose is a slightly overweight rich burrowing owl. He wears a top hat, along with a black bow tie, a white button-up shirt, a plaid gold waistcoat with a black coat.
Ad blocker interference detected!
Wikia is a free-to-use site that makes money from advertising. We have a modified experience for viewers using ad blockers

Wikia is not accessible if you've made further modifications. Remove the custom ad blocker rule(s) and the page will load as expected.