The Mayor
Edit
The Mayor is the main antagonist of Rango.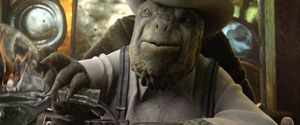 Full name: The Honorable Marlon Lynch. He's the top tortoise in Dirt, and is keenly aware of the water crisis. The mayor is looking for someone the town can believe in again. Someone like Rango.
The mayor tells Rango that he watched the humans build the town on the other side of the highway, and later shows his true intention is to create a better town.
He then calls in Rattlesnake Jake to chase him out of town, and soon after try's to buy Bean's land. Jake then threatens her, and Rango returns to fight. They are thrown into a cell with rising water, and The mayor pulls out an empty gun, attempting to kill Jake. In the end, The mayor is dragged away by the snake.
"Control the water, and you control everything"
- Said by The mayor, to Rango.

Ad blocker interference detected!
Wikia is a free-to-use site that makes money from advertising. We have a modified experience for viewers using ad blockers

Wikia is not accessible if you've made further modifications. Remove the custom ad blocker rule(s) and the page will load as expected.